This is a

must

attend event for all Crown Collectors!
This is your chance to look through

thousands and thousands

millions of crowns from all over the world in one place. Whether you collect soda crowns or beer crowns or whatever, this is a great chance to find that hard to find crown you've been looking for. It's also a great place to meet collectors from all over the World. Don't miss this show if you're a serious collector or just beginning. You won't regret it!
Group photo Crownvention 2013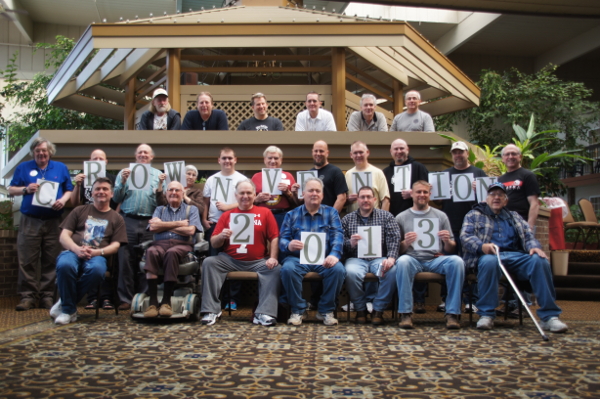 Front Row:

Dave Regenfuss, Bob Raven, Gary Pappas, Kevin Kirk, Eric Budesheim, Mike Walser, John Kissiz.
Middle Row:

Joe Sypniewski, Rene Jung, Barry Oremland, Marg Walker, Nick Hinkle, John Vetter, Jason Kalser, Randy Hinkle, Wietze Veld, Kenny Yohn, Phil Pfeiffer.
Back Row:

Laurie Moyer, Rich Pav, Jeff Meyers, Rich Chinook, Joe Roberts, Steve Savoca.
Not pictured:

Ron Small, Todd Selbert, Rob Walters, Andy Dolermo, Mark Kryzanowski, Rich Uperti, Al Seiders, Greg Gemberling, Steve Gemberling, Sally Leese, Sue Schwartz, Martin Keck, Larry Nellist, John Whitmore.